Baggage and dangerous goods
Dangerous goods are materials and objects which may cause significant risk for health, safety, material goods and environment. Dangerous goods are forbidden for transport in checked-in and hand lugagge.
Complete list of a prohibited items you can find here
Liquids, Dangerous Goods, Prohibited Articles
Info brochure about Dangerous goods regulations (PDF)
Hold Baggage
Baggage checked on behalf of registration, transported in aircraft baggage hold.
Hold Baggage Restrictions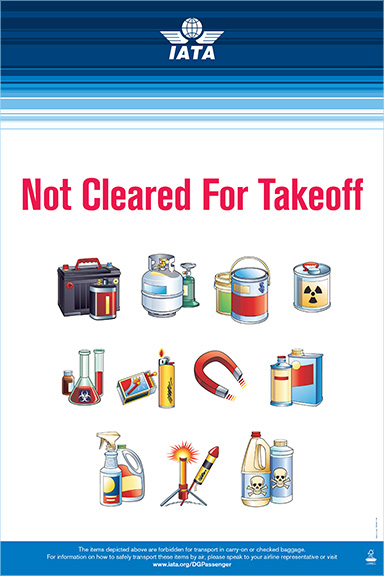 Airlines determine the quantity, weight and dimensions of baggage transported free of charge. All above is charged additionally.
The following items must not be carried inside the hold baggage:
explosives, including detonators, grenades, mines;
gas: propane, butane;
flammable liquids;
flammable substances and materials as magnesium;
radioactive substances;
oxides and organic peroxides;
poisonous and infectious substances;
corrosive chemicals, including mercury;
vehicle engine fuel supply system components when containing fuel.
The contents of this list are not complete and identify only categories of forbidden items that must be removed from the hold baggage.
When items defined as dangerous goods are discovered on behalf of security check, dangerous goods regulations must be applied in accordance with internationally accepted packing regulations (Annex 18 – Safe Transport of Dangerous Goods by Air; Technical Instructions for Safe Transport of Goods by Air (Doc 9284).
Dangerous Goods Regulations define the possibility of exceptions related to hold baggage transport.
Hand Baggage
Baggage taken into aircraft. Airlines determine the weight and volume of hand baggage.
Categories of items forbidden on board of aircraft, except in case of prescribed permission approved by relevant state bodies are:
Fire arms and other objects which may fire off missiles and cause serious injuries.
Sharp / pointed objects with cutter or sharpened point which can cause serious injuries.
Tools which may be used for serious injuring or for aircraft safety threats.
Blunt objects which can cause serious injuries when hit with them.
Explosives, flammable items and devices which can cause serious injuries or aircraft safety threats.
Chemicals and poisonous materials.
Passenger Warning
In order to protect air traffic passengers, the EU introduces a limit concerning the amount of liquids allowed to be carried in the hand baggage, in the year 2006. These protective measures are applied at all EU, Norway, Iceland and Switzerland airports, and are also mandatory at the Republic of Croatia airports.
The liquids include: beverages, oils, perfumes, lotions, gels, mixtures of liquid and solid contents, containers under pressure such as shaving foams,gels, deodorants, perfumes and other items of similar content.
Only liquids in individual packages of up to 100 ml or 100 g volume, put in transparent, resealable plastic bags, may be carried inside the hand baggage. Maximal bag volume is 1 litre. The bag must be completely closed (see picture).
Passengers are still allowed to:
carry the above mentioned liquids if they are packed in the hold baggage. New regulations applying to hand baggage;
during flight liquids used for medical purposes, or for special nutritional needs, including baby food are to be carried inside the hand baggage. At the request of the person in charge, passengers are to prove the need to use them.
If passengers fly from any EU airport to the Republic of Croatia destinations, on direct flight or with transit at some other EU airport, they can carry on board liquids (drinks, perfumes …) bought in shops which are behind the Boarding Pass Control and / or Security Check. Liquids purchased in that manner must be put in transparent plastic bags (STEB). In the year 2008, EK 820/2008 Regulation came into force, according to which air traffic passengers flying from Croatia and with transit at some EU and Switzerland airport are again allowed to carry liquids into aircrafts, provided they are bought in airport Duty Free Shops, after Security Check and Boarding Pass Control. This Regulation refers to Dubrovnik, Split, Zadar, Rijeka, Pula and Zagreb airports. The stated permission is valid for goods purchased within 36 hours of transfer and packed in transparent plastic bags (STEB). The bags must be sealed, so that any attempt to open them can affect the content which must be visible.
Passenger and Hand Baggage Security Check
At passenger and hand baggage security check, the passenger is required to:
report all liquids;
separately present laptops and other electronic devices (mp3 players, mobile phones etc.);
take off coat and / or jacket that will be checked as a separate piece of hand baggage.
If you have any additional questions please contact your airline or travel agency.
Excess or Special Baggage
Please submit a request for excess or special baggage through your airline reservation system. The request will be confirmed according to airline limitations and availability and charged in accordance with airline charges rules.