Security measures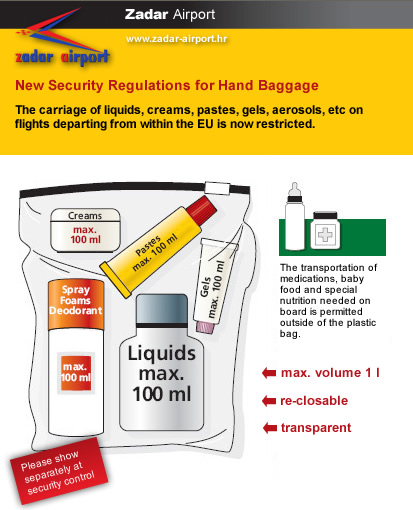 It is forbidden by law to carry any dangerous items both in the checked and hand baggage. Such items include: explosives, flammable liquids, radioactive materials and poisons, loaded firearms, pressurized gases and other articles such as anti-corrosive and anti-oxidizing products.
LIST OF PROHIBITED ARTICLES - CABIN BAGGAGE
Passengers should not be permitted to carry the following articles into the security restricted area and the cabin of an aircraft:
a) Guns, firearms & weapons
Any object capable, or appearing capable, of discharging a projectile or causing injury, including:
all firearms (pistols, revolvers, rifles, shotguns etc)
replica and imitation firearms
component parts of firearms (excluding telescopic sighting devices and sights)
air pistols, rifles and pellet guns
signal flare pistols
starter pistols
toy guns of all types
ball bearing guns
industrial bolt and nail guns
cross bows
catapults
harpoon & spear guns
animal humane killers
stun or shocking devices e.g. cattle prods, ballistic conducted energy weapons (taser)
lighters shaped like a firearm
b) Pointed/edged weapons & sharp objects
axes and hatchets
arrows and darts
crampons
harpoons and spears
ice axes and ice picks
ice skates
lockable or flick knives with blades of any length
knives, including ceremonial knives, with blades of more than 6 cm, made of metal or any other material strong enough to be used as a potential weapon.
meat cleavers
machetes
open razors and blades (excluding safety or disposable razors with blades enclosed in cartridge)
sabres, swords and swordsticks
scalpels
scissors with blades more than 6 cm in length
ski and walking/hiking poles
throwing stars
tradesman's tools that have the potential to be used as a pointed or edged weapon e.g. drills and drill bits, box cutters, utility knives, all saws, screwdrivers, crowbars, hammers, pliers, wrenches/spanners, blow torches.
c) Blunt instruments
baseball and softball bats
clubs or batons – rigid or flexible (e.g. Billy clubs, blackjacks, night sticks and batons)
cricket bats
golf clubs
hockey sticks
lacrosse sticks
kayak and canoe paddles
skateboards
billiard, snooker and pool cues
fishing rods
martial arts equipment (e.g. knuckle dusters, clubs, coshes, rice flails, num chucks, kubatons, kubasaunts)
d) Explosives and flammable substances
Any explosive or highly combustible substances which poses a risk to the health of passengers and crew or the security / safety of aircraft or property, including:
ammunition
blasting caps
detonators and fuses
explosives and explosive devices
replica or imitation explosive material or devices
mines and other explosive military stores
grenades of all types
gas and gas containers (e.g. butane, propane, acetylene, oxygen - in large volume)
fireworks, flares in any form and other pyrotechnics (including party poppers and toy caps)
non safety matches
smoke generating canisters or cartridges
flammable liquid fuel (e.g. petrol/gasoline, diesel, lighter fluid, alcohol, ethanol)
aerosol spray paint
turpentine and paint thinner
alcoholic beverages exceeding 70% by volume (140% proof)
e) Chemical and toxic substances
Any chemical or toxic substance which poses a risk to the health of passengers and crew or the security/safety of aircraft or property, including:
acids and Alkalis (e.g. spillable "wet" batteries)
corrosive or bleaching substances (e.g. mercury, chlorine)
disabling or incapacitating sprays (e.g. mace, pepper spray, tear gas)
radioactive material (e.g. medicinal or commercial isotopes)
poisons
infectious or biological hazardous material (e.g. infected blood, bacteria and viruses)
material capable of spontaneous ignition or combustion
fire extinguishers
f) Liquids
Liquids, unless in individual containers with a capacity not greater than 100 millilitres or equivalent and contained in one transparent re-sealable plastic bag of a capacity not exceeding 1 litre. The contents of the plastic bag should fit comfortably and the bag should be completely closed. Liquids include gels, pastes, lotions, liquid/solid mixtures and the contents of pressurised containers (e.g. toothpaste, hair gel, drinks, soups, syrups, perfume, shaving foam, aerosols and other items of similar consistency).
LIST OF PROHIBITED ARTICLES - HOLD BAGGAGE
The following articles should not be placed in hold baggage:
explosives, including detonators, fuses, grenades, mines and explosives
gases: Propane, butane
flammable liquids, including gasoline, methanol
flammable solids and reactive substances, including magnesium, firelighters, fireworks, flares
oxidizers and organic peroxides, including bleach, car body repair kits
toxic or infectious substances, including rat poison, infected blood
radioactive material, including medicinal or commercial isotopes
corrosives, including mercury, vehicle batteries
vehicle fuel system components which have contained fuel
Travelling with liquids – 100ml rule
Only limited quantities of liquids may be carried through security control as hand baggage.
This includes bottled drinks, suntan lotion, fragrances, cosmetics and toiletries.
The following restrictions apply to all liquids, creams, gels, pastes and aerosols taken through security control.
Liquid items may only be carried in containers holding up to 100ml.
They must be carried separately in a single transparent, resealable plastic bag.
The bag must be no larger than 20cm x 20cm (8in x 8in) and all items must fit inside so that it closes properly.
At security control the bag must be placed separately on the conveyor belt for screening.
Liquid items larger than 100ml should be packed in your hold luggage – otherwise they will be confiscated.
Exceptions to the 100ml rule can be made for baby food or milk. However, you should only carry what you need for the flight, and you may be asked to taste these items at security control.
Exceptions may also be made for medicines. However, you may be asked to taste any liquid medicines, or to provide evidence (such as a doctor's letter) that you need them for your journey.
HAND BAGGAGE AT SECURITY SCREENING
Remember, you can leave keys, coins,wallets and mobile phones in your jacket or coat pockets, but take off your coat while you're in the queue so you're ready for the X-ray machines.
Large electrical items, such as laptops, will need to go through X-ray machines separately, so get them ready by taking them out of your hand luggage.
Your coat, transparent bag (including medicines) and, if asked, your shoes all need to go in one tray, but your large electrical items will go through in another.
Smaller items (eg cameras or mobile phones) can remain in your bag for screening, Pushchairs and walking aids will be X-ray screened, Wheelchairs will be thoroughly searched
ADDITIONAL INSTRUCTIONS
Never leave your baggage unattended. Every baggage will be removed by security staff
Be aware of airport security measures
Dont accept any baggage of unknown person
At check-in You will be asked questions about your baggage contents
CUSTOMS INFORMATION